🔧🔥 Polyethylene welding machine is available in Elite Stars in Iraq! 🔥🔧
–
🔌 Are you looking for a first class welding machine for your PE pipe projects? Look no further! We are pleased to introduce you the most modern polyethylene welding machine available at Elite Stars.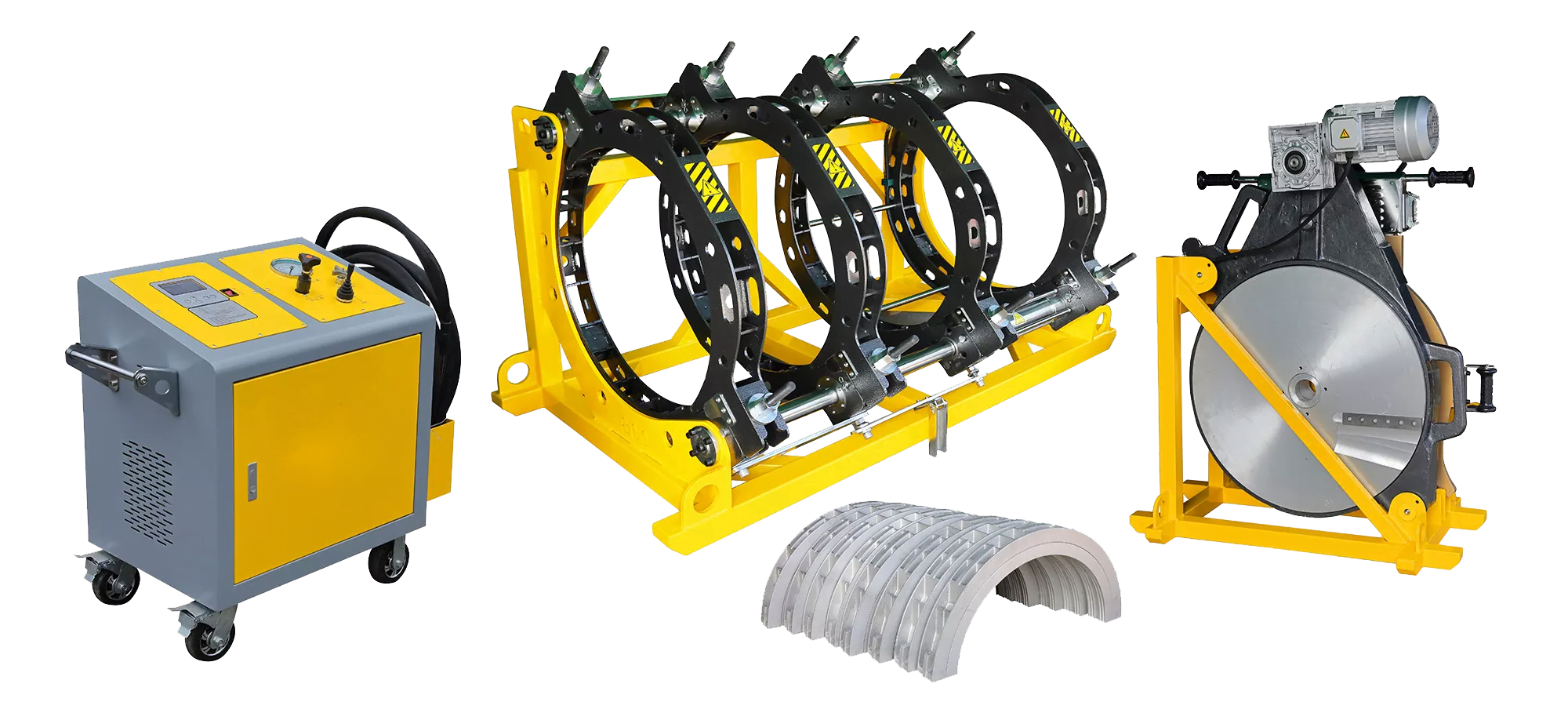 🔩 Features:
✅ Full hydraulic, semi-hydraulic and manual options
Size range: 32mm to 2000mm
✅ ISO and CE certification to ensure quality
✅ Compatible with PE 100, PE 80 and PE63 pipes
✅ Working pressure: 2 to 32 bar
With these great features, our product is the ideal choice for polyethylene pipe installation and maintenance. Whether you are working on a major construction project or need a specific pipe repair, our product will ensure reliable and efficient performance for a long time. We are committed to providing high quality products
–
Our polyethylene welding machine is equipped with the latest technology, ensuring efficient and reliable welding of a wide range of pipe sizes and grades. Whether you're working on small projects or large industrial applications, this device has got you covered.
–
💪 Say goodbye to leaky and weak joints! Our welding machine ensures strong and durable connections, giving you peace of mind with every weld. It offers the flexibility of three operating modes - hydraulic, semi-hydraulic and manual - allowing you to choose the best approach for your specific needs.
–
🌐 Never compromise on quality or safety. Our machine is ISO and CE certified, ensuring compliance with international standards. With the Elite Stars Program, you can be confident that you are investing in a high-quality product that meets all the necessary requirements.🏆
📞 Call us today at 07726234040 to inquire about prices, specifications and availability.
🌐 Visit our website: https://elitepipeiraq.com
🔸 Full hydraulic polyethylene welding machine 160
🔸 Fully hydraulic polyethylene welding machine 200
🔸 Fully hydraulic polyethylene welding machine 250
🔸Full Hydraulic Polyethylene Welding Machine 315
🔸 Full hydraulic polyethylene welding machine 400
🔸 Full hydraulic polyethylene welding machine 500
🔸Full Hydraulic Polyethylene Welding Machine 630
🔸 Fully hydraulic polyethylene welding machine 800
🔸 Fully hydraulic polyethylene welding machine 1000
🔸 Fully hydraulic polyethylene welding machine 1200
🔸 Full hydraulic polyethylene welding machine 1600
🔸 Full hydraulic polyethylene welding machine 2000
🔹 Semi-hydraulic polyethylene welding machine 160
🔹 Semi-hydraulic polyethylene welding machine 200
🔹 Semi-hydraulic polyethylene welding machine 250
🔹 Semi-hydraulic Polyethylene Welding Machine 315
🔹 Semi-hydraulic polyethylene welding machine 400
🔹 Semi-hydraulic polyethylene welding machine 500
🔹 Semi-hydraulic polyethylene welding machine 630
🔹 Semi-hydraulic polyethylene welding machine 800
🔹 Semi-hydraulic polyethylene welding machine 1000
🔹 Semi-hydraulic polyethylene welding machine 1200
🔹 Semi-hydraulic polyethylene welding machine 1600
🔹 Semi-hydraulic polyethylene welding machine 2000
🔺 Manual polyethylene welding machine 160
🔺 Manual polyethylene welding machine 200
🔺 Manual polyethylene welding machine 250
🔺 Manual polyethylene welding machine 315
🔺 Manual polyethylene welding machine 400
🔺 Manual polyethylene welding machine 500
🔺 Manual polyethylene welding machine 630
🔺 Manual polyethylene welding machine 800
🔺 Manual polyethylene welding machine 1000
🔺 Manual polyethylene welding machine 1200
🔺 Manual polyethylene welding machine 1600
🔺 Manual polyethylene welding machine 2000